IMPORTANT BUSINESS TECHNIQUES YOU WILL LEARN:
The Entrepreneurial Spirit
---
THE PERFECT, PROFESSIONAL SEMINAR FOR:

Creating a Profitable Business



Getting Intuitive Guidance-- Learn techniques for getting your own intuitive guidance for making business decisions



Spiritual Ideals and Entrepreneurship-- Explore some of Edgar Cayce's readings on business and learn how to envision the right livelihood



The professional Identity-- Discover what image the public expects and what accountability you have to yourself and the public



Professional Communication-- Practice designing a professional brochure and business card



Professional Relationship with the Client-- Resolving ethical dilemmas



Outreach and Marketing-- Learn how to select and where to buy mailing lists and receive list from Henry and Carol Ann



Creating a Profitable Weekend-- How to design a workshop from selecting a topic and a site to organizing the flow and planning publicity

Getting Organizations to Hire You-- Get time-tested suggestions on how to present a proposal to a potential business customer
Training in Business Practices for Psychic and Other Metaphysical Professionals
"Essential for anyone wanting to take their metaphysical skills into a money-producing business.

"This workshop helps new business people save years of growing pains and poor earnings in the start up of their business"

Walter Krause, participant
Develop Your Metaphysical Practice into a Profitable Professional Career
This seminar is designed for metaphysicians and holistic practitioners who desire to set up a professional business and have questions about the elements of a professional practice. The training assumes that individuals have developed their skills in their chosen areas and are ready to begin entrepreneurial work in marketing and promoting themselves to an interested public.

This intensive also meets requirements for a variety of certifications tracks in the Edgar Cayce Institute for Intuitive Studies

holistic healers

astrologers

massage therapists

psychics

hypnotherapists

any metaphysical speaker with skills and ideas to share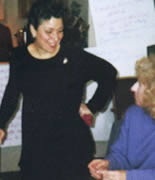 "A spiritual approach to the practical needs of making our dreams real"
Seminar participant