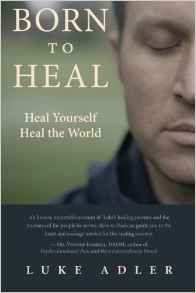 The Relationship Between Spiritual and Physical Health
By
Luke Adler
Because it is an archetypal process, many people have experienced self-healing and then went on to become a healer of others. Luke Adler is no different. What I find different is the openness, honesty and downright humility of Luke's expression of his version of the story. His parents were meditation teachers and Luke was meditating as a teenager. It was when he was only 13 that he experienced a Kundalini awakening. His response was an aching smile as he looked out upon the world, silently exclaiming, "People, do you know just how beautiful you are?" This burning, loving desire to awaken folks to their own beauty feels like Luke's trademark, giving his writing a very special quality. I'll describe two things about his book that makes it stand out from other books on healing.
Luke had his share of problems growing up, accepting himself, fitting in—the usual stuff we all face. His father and he had many conflicts. He had self-esteem problems and looked for love in the wrong places—all the usual stuff. His "enlightenment" did not change that. Instead he remained as someone we can easily identify with, yet he now has inner resources to begin to heal his issues. The source of healing that Luke encounters is the same written about by many, many others—the existence of a divine core within us, an inner light, that can show the way to wholeness, a path that involves self-love and self-acceptance. We've heard it all before. What you may not have experienced is someone like Luke who can share with you his own struggles in a way that makes you feel you can deal with yours.
The second thing that is unique about his book results from his study of Chinese medicine. Among the various aspects, what I found quite instructive was his treatment of how the bodily organs function with our emotions, and how they work together. The lungs are associated with sadness, for example, with associated diseases such as asthma. The heart symptoms express anxiety; the liver—anger; the spleen—worry; and the kidneys—fear. These connections may seem arbitrary as I mention them here. The important aspect is that when you note what kind of physical symptoms you mostly experience, you can then move onto the related organ. The author provides many exercises for getting into the underlying emotions and helping the physical organs process and cleanse them. All the while this healing is going on, we can also be learning a lot about ourselves. He has a great deal of faith in our ability to know ourselves lovingly, and to experience the resulting healing.
You'll wear this book out before you complete all the exercises he shares. Yet you'll be happy you did!
About the Author: Luke Adler, L.Ac. D.O.M., is Board Certified Acupuncturist and Chinese Herbalist, and a Diplomat of the National Certification Commission for Acupuncture and Oriental Medicine, which is the highest level of national certification for Chinese Medicine. He served a medical externship at the UCLA Arthur Ashe Medical Clinic, and practiced Chinese medicine and acupuncture in an integrative clinic in rural India, where he worked with allopathic doctors and Ayurvedic and homeopathic physicians. The founder of Luke Adler Healer Studies, he is trained in the practice of Microcurrent Positional Technique, which focuses on orthopedic pain and structural imbalances.