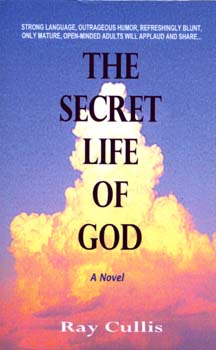 The Secret Life of God
A Novel, by Ray Cullis
"We have no secrets!" I shouted. "God knows all our secrets! God sees everything!"
I glanced down from the pulpit at the right front pew where my wife, Christina, had sat during my sermons until that fateful Sunday two weeks ago.
Thus begins this mystery in which rookie preacher Gary Watts makes this outrageous promise to his congregation:
"And so, my fellow worshippers, next Sunday I will preach about...the secret life of God!"
His wife has left him, his congregation doubts that he can deliver this promised sermon and there is gossip that this preacher will soon be replaced. And so Gary moves on out, like somewhat of a gumshoe detective, somewhat like Forrest Gump, and somewhat of an over-rationalized lost soul, in search of information concerning God's secrets. His adventures take him into the realm of "New Age" enclaves, where he is shown several methods that might take him to Heaven to learn God's secrets. Hypnosis, meditation, a near-death experience, an out-of-body adventure and a dose of katamine all become a part of his journey into the secret mind of God.
To find out what Gary learns of God's secret life, you'll have to read the book.