The Asheville Intuitive Heart™ Gathering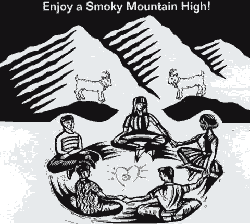 Asheville, NC, November 7-11, 2003
Henry Reed's unique, "Creative Spirit" approach to Intuition, Spirituality and Healing

Henry Writes:
I am very pleased to be able to offer to you a comprehensive training experience in the Intuitive Heart™ Discovery Process as applied to spiritual guidance and visionary experience. For the first time in several years, I am hosting a conference specifically focused on developing your Intuitive Heart™ talents. And in those years, there have been many developments which I wish to share with you.

You may have been introduced to some of the Intuitive Heart™ explorations at Virginia Beach during the Edgar Cayce Legacy Conference at the Association for Research and Enlightenment (A.R.E.), or through my book, The Intuitive Heart. Others of you may have had a taste of the "Healing Presence" work at the special one-day workshop I've been offering around the country. Our special in-depth training this fall in Asheville is going to be in response to one of the most frequent comments I hear from people who have been exposed to these training events:
"I want to learn more."
"I want more time to practice."
"I wish I could talk to you about my experiences doing this work."
"I want to learn how to use this more in my daily activities."
These are some of the comments I often hear from people who are first introduced to this work. Our Asheville conference will speak to these concerns. We'll be working on a focused set of concepts and exercises in a small group format where I'll be available for a back and forth exchange with the participants. The training will be oriented toward practical application.
I am very devoted to the Intuitive Heart™ Discovery Process and its applications. I am eager to help you develop a better relationship with this unique and powerful approach to our increasingly inter-connected world. Some of you may already be aware of the origins of the Intuitive Heart™ approach. But you probably are unaware of the significance of the Intuitive Heart™ Discovery Process healing ourselves and one another to prepare for the coming world changes. We are entering a period I describe as a crisis in boundaries. The Intuitive Heart™ Discovery Process has special qualities that will help us move through this crisis gracefully and allow us to help others enter the new world of inter-connectedness. When the ultimate boundary breaking occurs, that is, when the world acknowledges the reality of ESP, then many people will feel threatened by the loss of individuality and privacy. The continued use of three-dimensional metaphors (inner, outer, upper, lower, raising, moving) will create traps in the realm of consciousness. The Intuitive Heart™ Discovery Process has special abilities, for example, to help people release the concerns about "psychic invasion." It also has its own approach to what is popularly known as "hypnosis," helping people develop a relationship with their own creative, intuitive imagination. I have also shown its value in the area of divination. I look forward to the Asheville Gathering as an opportunity to share with you the holistic vision of the Intuitive Heart™ Discovery Process in its many dimensions. I am sure it will help you to improve your own intuition, gain a world view that will help you in your creative work, and provide you with tools for being a support to others. Some of you may also discover that the Intuitive Heart™ work may also fit in to your professional career plans.
The "Healing Presence" training offers people, professionals and non-professionals alike, a very direct and supportive method of being of help to others. Combining intuitive listening skills, a simple hypnotherapy method that most any person can use to advantage, and a special, prayerful method of supplmenting your work with healing at a distance, this training will be of great use to you.
The Edgar Cayce Institute for Intuitive Studies has formally adopted the Intuitive Heartt™ material as one of its training series. It offers four home study courses from the Intuitive Heart™ work, as well as featuring it in two of its A.R.E. programs at Virginia Beach. Not only does this adoption speak highly of the Intuitive Heart™ material, it also means that should you wish to pursue a credentialed course of study at the Institute, your attendance at the Asheville Gathering will be accepted as an "elective" at the Institute, to satisfy a portion of their requirements.
The Intuitive Heart™ is becoming increasingly recognized as the unique and powerful approach to higher consciousness that I have always known it to be. I am very honored by these recognitions, which means that it is even more important to me to be able to share this training with you. So I hope to see in Asheville this October! In the meantime, check back to these web pages often for updated information.
Sincerely,

PS: Some special notes:
If you check out the Schedule Page for our Asheville Gathering, you'll get some more details on the activities I've planned for you.

Our Asheville Gathering will convene at the YMCA Blue Ridge Assembly. The Assembly is situated on 1200 wooded acres in the midst of the Blue Ridge with buildings situated in a campus-like setting.
In mid-October, the area will be experiencing the height of Fall colors!
Please refer to the Registration Page for details concerning costs. Many of you will qualify for at least one discount, some even two!